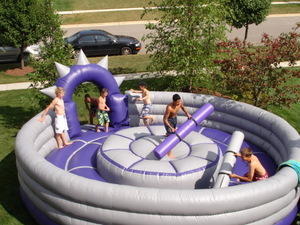 Setup Area: 23'Diameter (+4' for step) x 5'H (Entrance 10')
Actual Size: 23'Diameter (+4' for step) x 5'H (Entrance 10')
Monitors: 1
Outlets: Reguires 2 seperate electrical outlets.
Age Group: 6+
Description
Do you have what it takes to be a Joust Champion?
JOUST: 8 and older


Only 2 participants at a time. Participants must wear helmets.




Participants should not go on unit if they have a bad back or other medical conditions that could be exacerbated.