Toddler Jump Houses and Bouncers 5 and Under
FOR
THE FASTEST
SERVICE PLACE YOUR ORDER ONLINE
IF YOUR EVENT IS MORE THAN 3 DAYS OUT
WE DO NOT SERVICE SHELTER 7,8 & 9 @ John Chesnut Park
WE DO NOT SERVICE SHELTERS 6, 7,8 & 9 @ Anderson Park
Use your EXACT party start time, not the time you want the unit delivered. We will compensate for delivery. All units will be setup no later than 30 minutes before your start time. Most parks require a generator. Park events must end one hour prior to park closing.

PRICE IS BASED ON 1 - 4 HOURS
PRICES ARE INCREASED ON HIGH DEMAND DATES
PRICE WILL INCREASE BY $45 FOR ANYTHING OVER 4 HOURS
Keep overnight until 11 for an additional $100
$20 Service fee (RESIDENTIAL)
$50 Service fee (Parks) most parks require a generator
10% IF CORPORATE OR NON-RESIDENTIAL EVENT
For our littlest jumpers - Not recommended for children over 5
NEEDES SHADE UNIT HOT TO TOUCH IN SUN
** WE DO NOT PROVIDE THE BALLS FOR THE BALL PIT** It is not sanitary for us to provide them.
You can purchase them at Target, Walmart or Amazon. Takes Approx 1200 balls to fill the pit
Laugh & Learn toddler bounce house with slide and ball pit.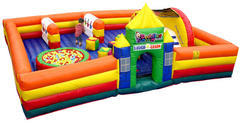 Jungle bouncer with obstacle course and double slides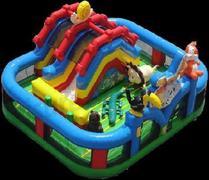 Animal Kingdom toddler bouncer with slide and ball pit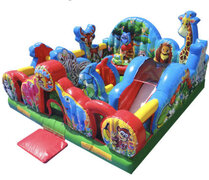 Soft Play Large Package